Automation with
GiboSmartSolutions
Automation with expe­rience. GiboSmartSolution is a collection of previous automation solu­tions and based on extensive expe­rience with automation. The expe­rience is gathered through many years creating cust­o­mized solu­tions for product and process opti­mization, value for money,
ROI
, after sales and service. Through the years Gibotech has deli­vered automation solu­tions for several different areas of business and for a multitude of purposes. Taking advantage of the know­ledge and expe­rience Gibotech has created GiboSmartSolutions, which combines different automation solu­tions giving the customer insight into the posi­bi­lities earlier in the process in order for them to fully utilize the benefits of automation.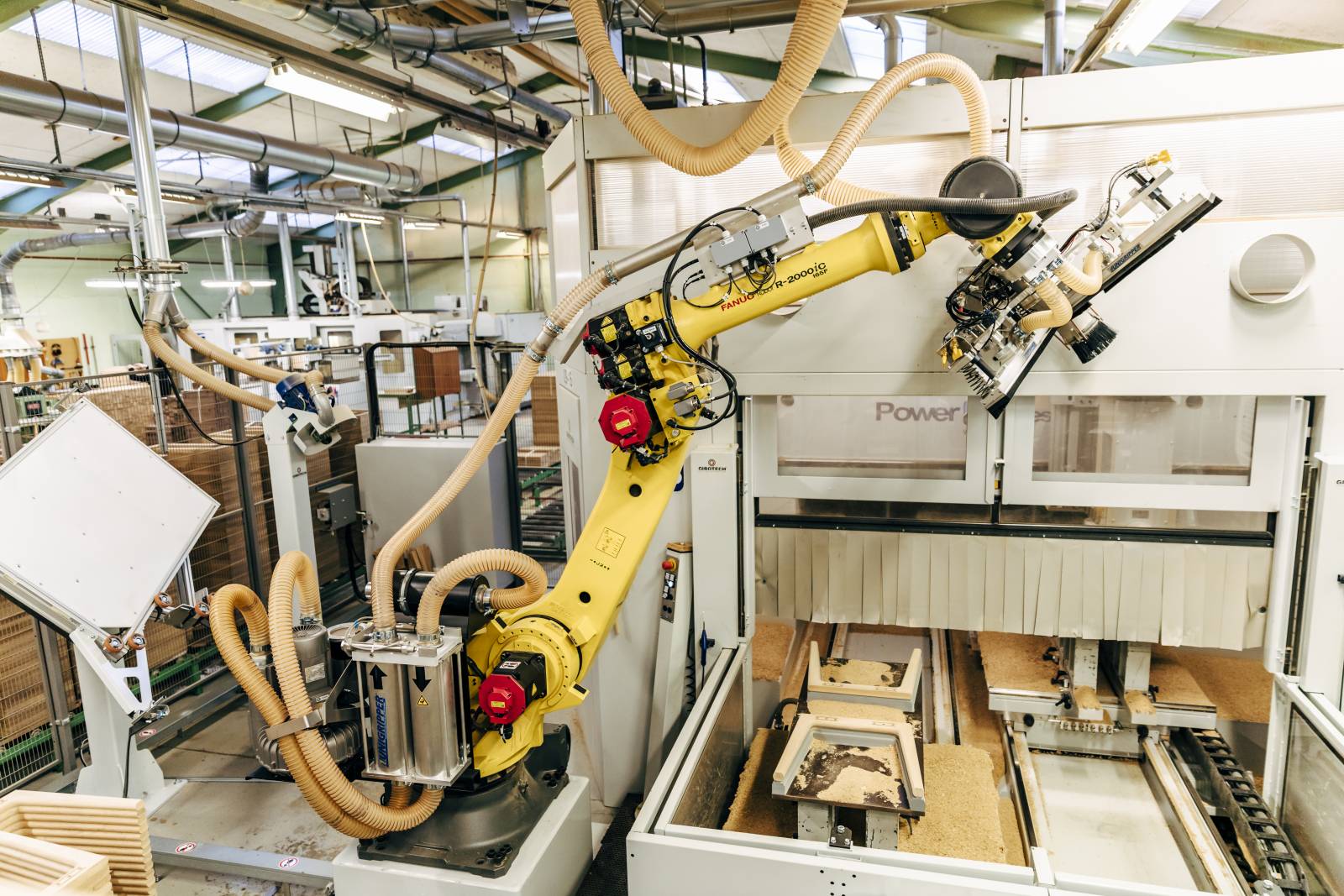 GiboMachineTending
Gibotech's solu­tions for machine tending are based on known technology and extensive expe­rience from previous projects. The solu­tions are deli­vered as complete turnkey and may easily be adapted to customer specific requirements.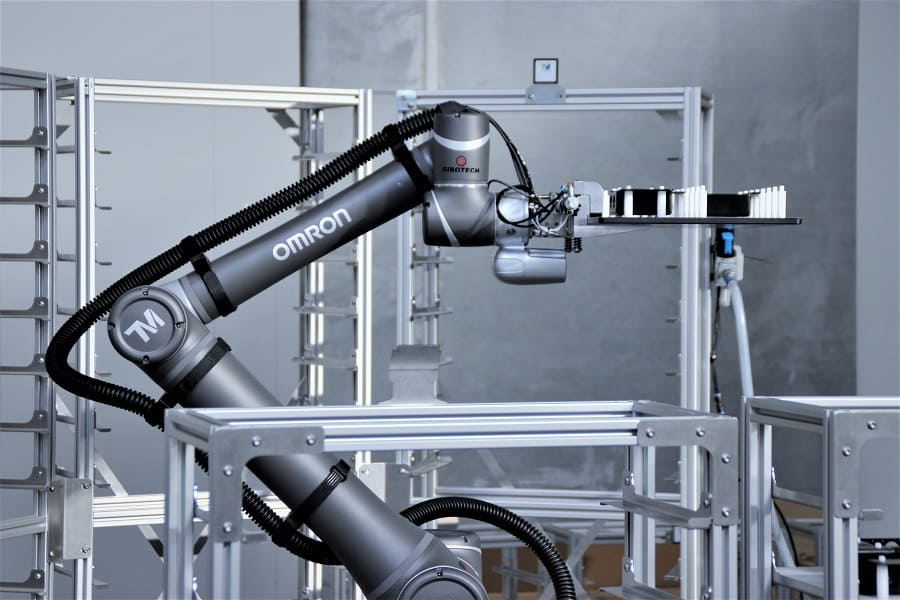 GiboCobot
GiboCobots is a series of colla­bo­rative robot arms with standard OnRobot end-of-arm tools deve­loped to cover a wide range of needs for handling different items with standard equipment.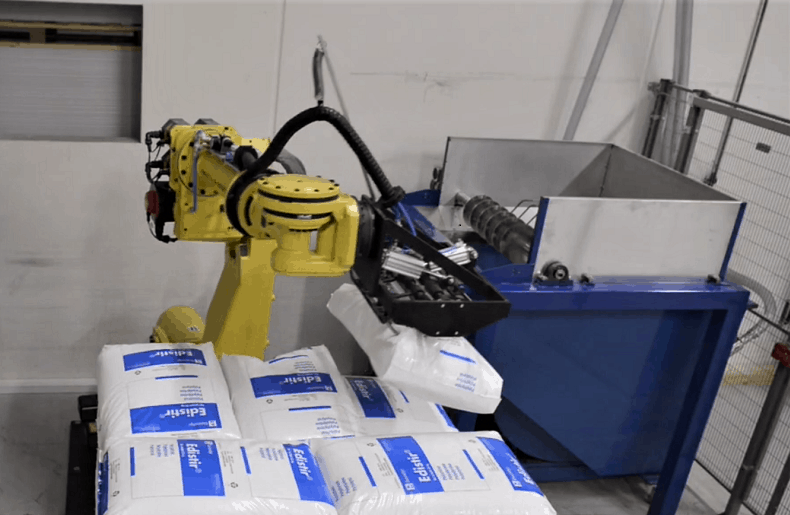 GiboBag
Automatic emptying of bags based on known technology, recog­nized brands and expe­rience from previous projects. The solution is offered as a complete turn key cell and is easily adapted to the cust­o­mer's requirements.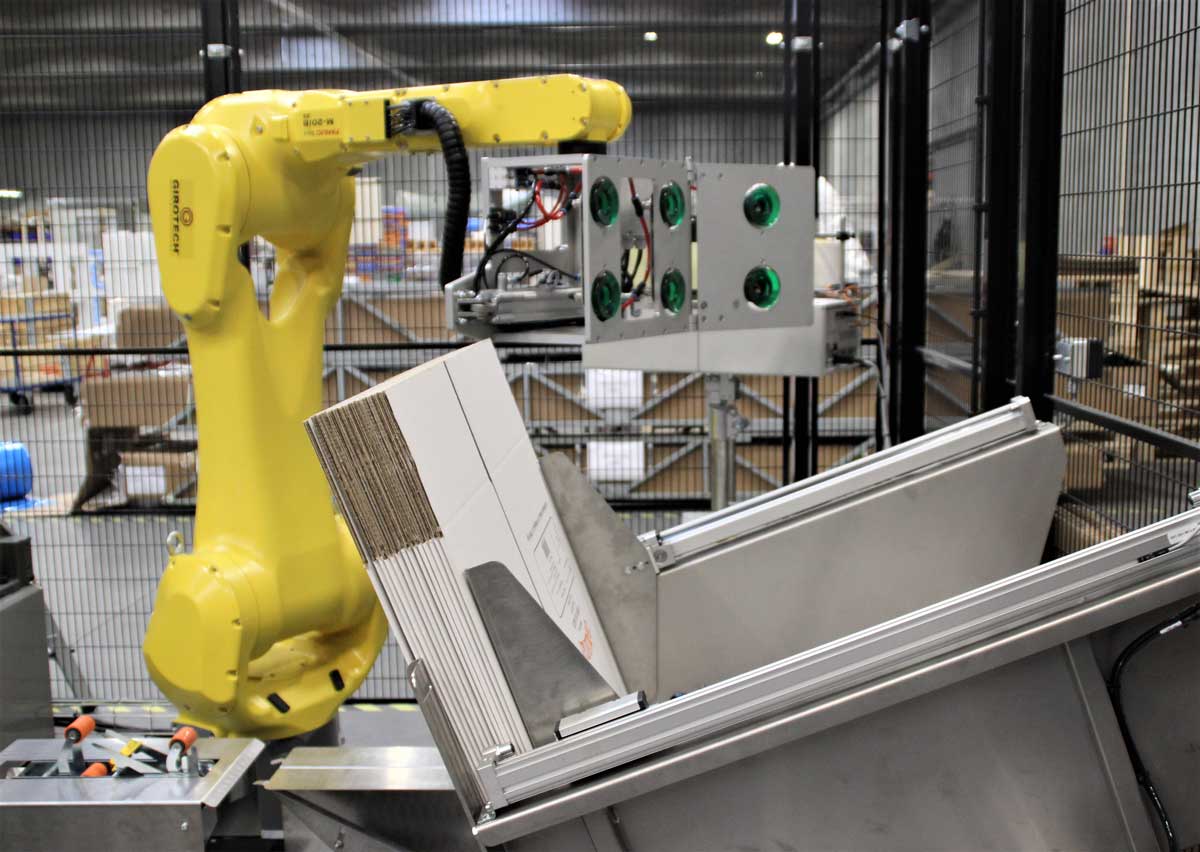 GiboBox
GiboBox is a box erector cell based on a modular concept providing the possi­bility of expanding with more modules is needed. Large cover area of box sizes and minimal foot­print ensures optimum
ROI
.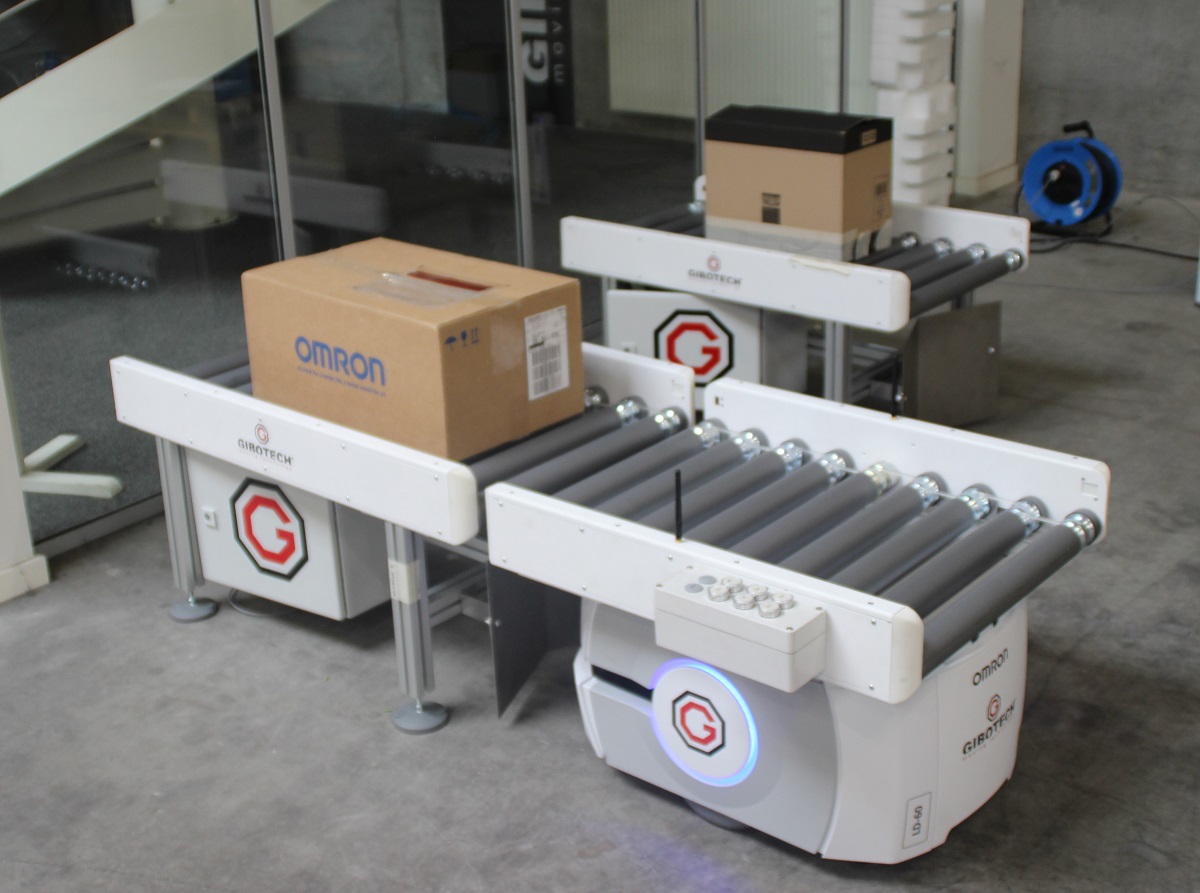 GiboMove
Mobile robots are auto­nomous, intel­ligent vehicles designed to increase productivity. GiboMove is offered with or without roller conveyors, up to 100 mobile robots and is cust­o­mized to customer.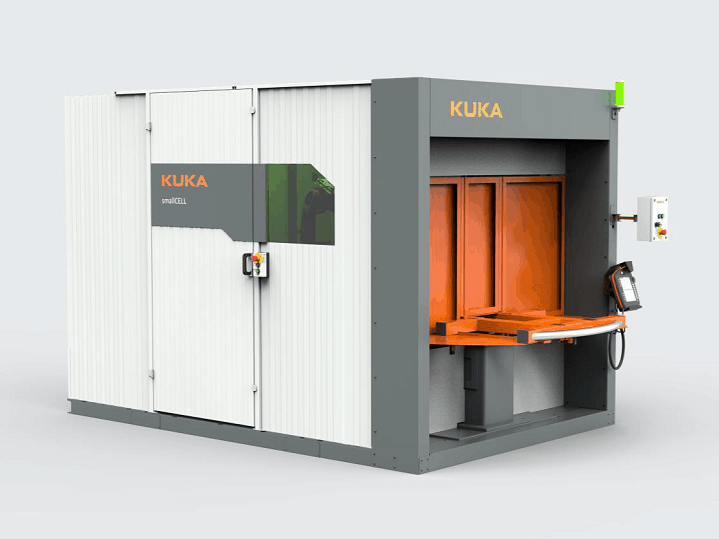 GiboWeld
Gibotech's solution for auto­mized welding. GiboWeld is based on known technology and a
KUKA
platform. The solution is offered as a complete turn key solution and is easily adapted to customer specific requirements.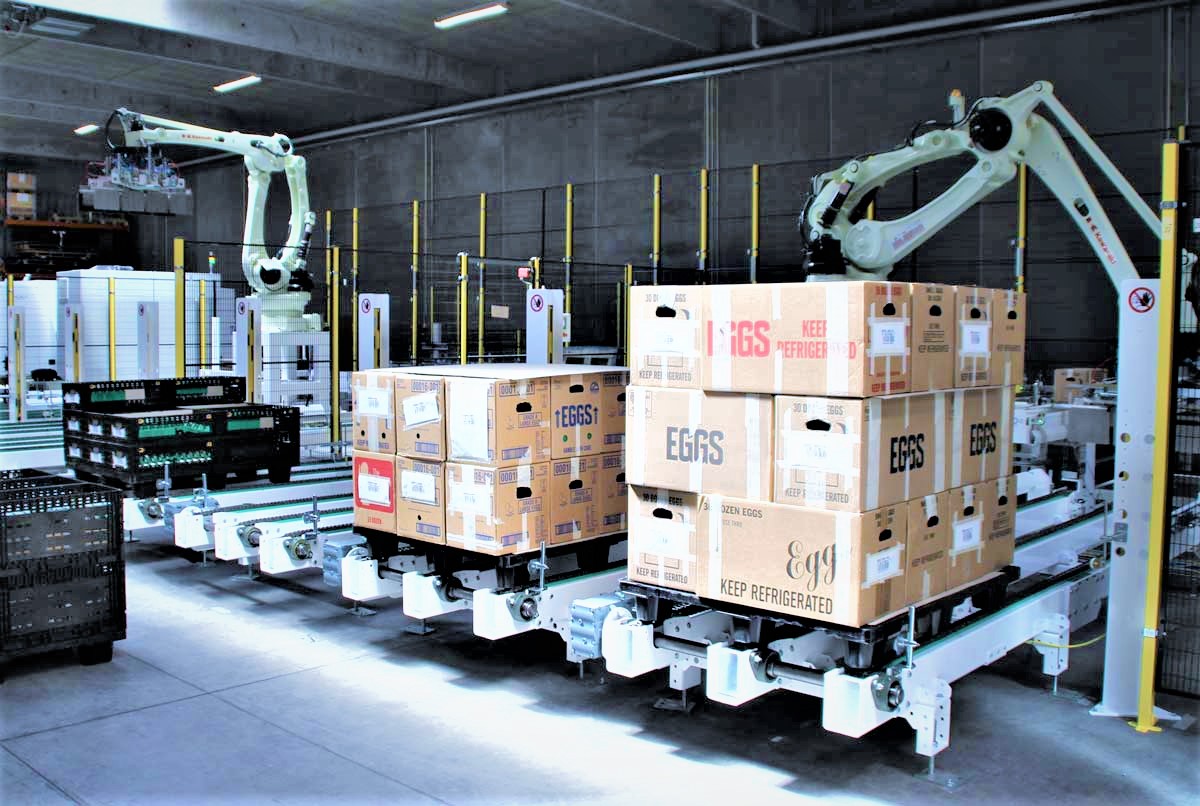 GiboPalletize
Automatic palle­tizing increases effi­ciency and limits heavy, manual lifting. GiboPalletize palle­tizes a wide range of box sizes which, combined with flexi­bility, ensures optimum
ROI
.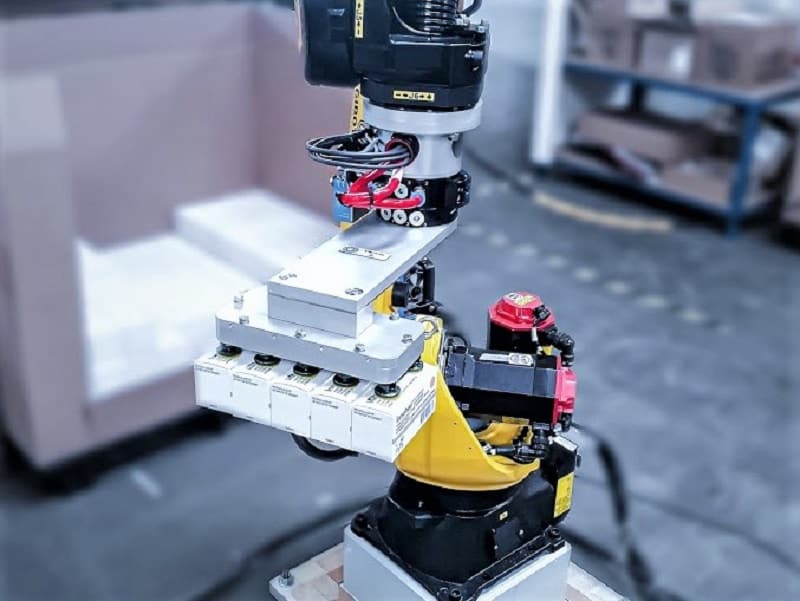 GiboPack
Gibotech's packing robot, GiboPack, is based on known technology and inte­grated in various solu­tions over the years. The module is avai­lable as stand-alone or as part of a complete case packing flow.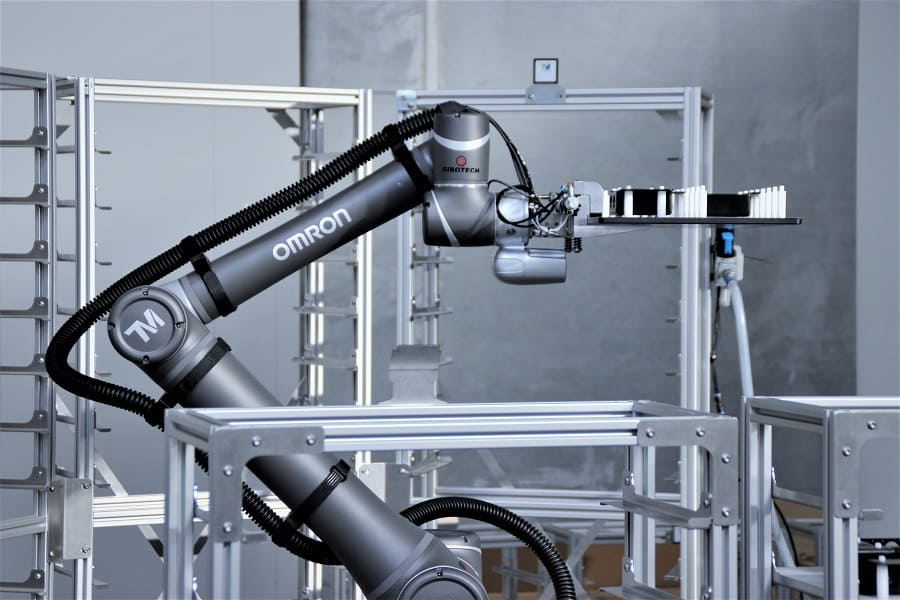 GiboHandling
GiboHandling combines a cobot's simple programming with a comple­tes­afety solution enabling shorter cycle time than in full colla­bo­rative mode.
Automation with experience
Gibotech develops, installs, and provides service on high-tech automation cells with robots and CNC machines. Our expertise and expe­rience for nearly 40 years has given us a strong position in the market, and we have deli­vered numerous machines and solu­tions to a wide range of busi­nesses, companies and production forms.
We strive to always be a competent and compe­titive business partner in terms of effi­cient and future-proof automation solu­tions. Therefore, we focus on helping our cust­omers optimize and making production methods more effi­cient to increase their competitiveness.
Gibotech has three main business areas. The healt­hcare sector steri­lization depar­te­ments and storage systems, distri­bution centers, internal logi­stics systems with AGVs and blood sample robots being the primary areas. Automation and robot cells to the industry varies from colla­bo­rative light-weight robots to indu­strial appli­ca­tions, conven­tional industry robots as a combi­nation and always cust­o­mized to the job and often with AGS to complete the productions flow. Gibotech's oldest business area is CNC machines, primarily for wood, plastic, composit and alloys. Within recent years there has been an increasing demand for auto­matic machine tending and Gibotech has deli­vered many combined solu­tions with both CNC machine and robots all over the world and is co-operating with the CNC manu­fa­c­turer to further develop this area of expertise globally.
GiboSmartSolutions primarily covers indu­strial solu­tions and many of them are based on a modular concept making it possible to buy a single robot cell og combine more cells for a complete solution, e.g. with or without mobile robot or CNC machine.
The more infor­mation you provide, the quicker we can provide the right department with your query.